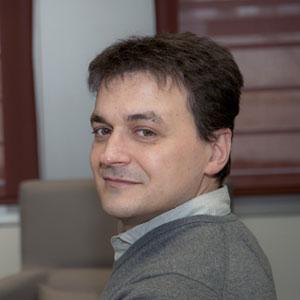 Associate Professor at UPC – BarcelonaTech
Researcher at IDEAI-UPC
Davide Careglio received the M.Sc. double degree in telecommunications engineering and electrical engineering from Technical University of Catalonia (UPC) (2000) and Politecnico di Torino (2001), respectively, and his PhD from UPC in 2005.
His research interests are focused on algorithms and protocols for computer networks with special interests in interoperability, control and management, planning and routing. He has been involved in several EU and industrial research projects.
---
Co-guest editor of the special issue: Novel Algorithms and Protocols for Networks II.
Other co-guest editors: Francesco Palmieri and Mirosław Klinkowski
A special issue of Applied Sciences (ISSN 2076-3417), current impact Factor: 2.474. This special issue belongs to the section Electrical, electronics and communications engineering.
Deadline for manuscript submissions: 31 august 2021.
---
Selected publications
Sergio Ricciardi, Francesco Palmieri, Aniello Castiglione, Davide Careglio, "Energy efficiency of elastic frequency grids in multilayer IP/MPLS-over-flexgrid networks", Journal of Network and Computer Applications, in press, July 2015, ISSN: 1084-8045, doi, JCR 2014: 2.229.
Ioannis Tomkos, Siamak Azodolmolky, Josep Solé-Pareta, Davide Careglio, Eleni Palkopoulou, "A Tutorial on the Flexible Optical Networking Paradigm: State-of-the-Art, Trends, and Research Challenges", Proceedings of the IEEE, vol. 102, no. 9, Sept. 2014, ISSN: 0018-9219, doi, JCR 2014: 4.934.
Davide Careglio, Dimitri Papadimitriou, Fernando Agraz, Sahel Sahhaf, Jordi Perelló, Wouter Tavernier, "On the experimentation of the novel GCMR multicast routing in a large-scale testbed", in Proceedings of the 33rd Annual IEEE International Conference on Computer Communications – Demo session (Infocom 2014), Toronto, Canada, April 27 – May 2, 2014.
Oscar Pedrola, Marc Ruiz, Luis Velasco, Davide Careglio, Oscar González de Dios, Jaume Comellas, "A GRASP with path-relinking heuristic for survivable IP/MPLS-over-WSON multi-layer network optimization problem", Computers and Operations Research, special issue on GRASP and path relinking, vol. 40, no. 12, pp. 3174–3187, December 2013, ISSN: 0305-0548, doi, JCR 2013: 1.718.
M. Klinkowski, M. Ruiz, L. Velasco, D. Careglio, V. López, J. Comellas, "Elastic spectrum allocation for time-varying traffic in flexgrid optical networks", IEEE Journal of Selected Areas in Communications, special issue on Next-generation spectrum-efficient and elastic optical transport networks, vol. 31, no. 1, pp. 26-38, January 2013, ISSN: 0733-8716, doi, JCR 2013: 4.138.
Josep Solé-Pareta, Suresh Subramaniam, Davide Careglio, Salvatore Spadaro, "Cross-layer approaches for planning and operation impairment-aware optical networks", Proceedings of the IEEE, special issue on The Evolution of Optical Networks, vol. 100, no. 5, pp. 1118-1129, May 2012, ISSN: 0018-9219, doi, JCR 2012: 6.911.
---
Research
My current research interests focus on IoT and programmable networks, both in terms of hardware and software and ranging from physical to network layers. I am a member of the Advanced Broadband Communication Centre (CCABA) at the Department of Computer Architecture (DAC) in the UPC.
Current projects:
• ALLIANCE – TEC2017-90034-C2-1-R [Jan. 2018 – Dec. 2020]
---
Academics
Associate Professor at the Department of Computer Architecture Department (DAC) of the Technical University of Catalonia (UPC) assigned to the Barcelona School of Informatics (FIB) and to the Barcelona Technical School of Telecommunications Engineering (ETSETB).
Current Courses:
• Computer Security (SI) [2019- currently]
• Computer Networks II (XCII) [2011- currently]
Former:
• Introduction to Computers (IO) [2003-2007]
• Computer Networks (XC) [2006-2019]
Teacher at the Image Processing and Multimedia Technology Center (CITM), an educational center attached to the Fundació Politècnica de Catalunya (FPC).
Current Courses:
• IT Network Architecture and Security (ASXI) [2015- currently]
• IT Architecture and Configuration (ACI) [2015- currently]
• The latest WEB design applications II (AWUGII) [2015- currently]